Hotel owners in Central and Eastern Europe (CEE) are most likely to inject more of their own equity as a means to ease the financial challenges and bridge any financial gap caused by the Covid-19 pandemic.
A survey by CMS and Cushman & Wakefield of hotel owners with approximately 150 hotel assets in the region found that injecting more of one's own equity was the most popular option among survey respondents (average rating of 4.03 out of 5, with 5 being the most likely solution). On the other end of the spectrum, restructuring through insolvency and bankruptcy liquidation were cited as the two least likely means to resolving financial challenges (average ratings of 1.52 and 1.30 out of 5 respectively).
Frederic Le Fichoux, Head of Hotel Transactions, Continental Europe at Cushman & Wakefield comments, "Significant capital has been raised amidst the pandemic and is ready to be deployed on hotel transactions in Europe, most of which is searching for one thing that appears to be rare these days: distress. At this stage, we have seen very little of it. However, that is not to say that owners are not facing difficulties. To bridge the financial gap, equity solutions have become popular amongst the more well-capitalised or well-connected, rather than selling off assets – although in some cases, the benefit of selling today, even if at a slightly reduced price, could outweigh the costs and risk of managing constrained cash flows during an uncertain recovery, especially for non-core assets. But clearly, there are many options to consider, such as bringing fresh equity, restructuring the debt package etc."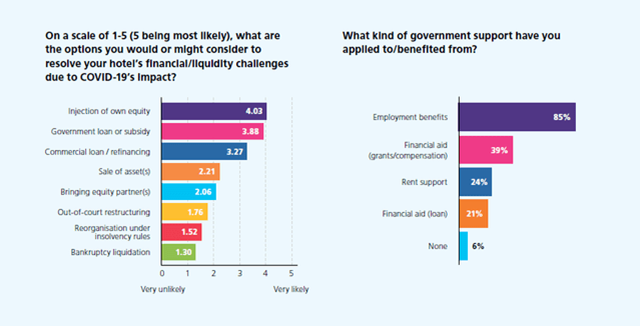 Excerpt from Hotel Investment Scene in CEE 2021. Source: CMS, Cushman & Wakefield
In fact, nearly half (42%) of hotel owners indicated that they had faced notable financial challenges due to Covid-19 with almost two-thirds (63%) stating that they would not be able to continue operating beyond a year without additional capital. This situation could be made worse as government support tails off, particularly in employment benefits which an overwhelming majority of respondents (85%) have turned to during the pandemic.
"As they emerge from the crisis, there are many options that hotel owners can consider in order to overcome the financial strain they may be facing due to the impact of the pandemic," says Lukáš Hejduk, CMS partner and Head of Hotels & Leisure in CEE. "The key is to consider each option carefully to determine the optimal solution for the owner's specific needs and situation. While the road to recovery will not be easy, we expect strong demand to return to the hotel sector as the world reopens slowly and safely."

EUR 370m were transacted in the CEE-6 in 2020, far below the EUR 1.8bn initially expected for the year. Nonetheless, this volume is still considerably higher than that transacted during the Great Financial Crisis in 2009 (EUR 209m), indicating that regardless of the economic cycle, the region has become more active and attractive than before.
Drawn by the long-term prospects of the CEE hotel sector, a growing number of investors have been scouting the market. However, opportunities remain few and far between, partially due to owners' misconceptions that now is not the right time to sell. Hotel transaction volume for the region in 2021 is thus forecasted to close at similar levels to 2020.
More information about the CEE hospitality investment market can be found in the "Hotel Investment Scene in CEE – Overcoming the Pandemic & Bridging the Financial Gap" report prepared by CMS and Cushman & Wakefield.
---
Author:
Cushman & Wakefield