Businesses manage a lot of capital, even a small percentage can help a lot. How can this area of the economy support organisations such as UNICEF?
Business has tremendous power to initiate change. It is worth emphasizing that a non-governmental organization is the company's natural ally when undertaking social activities. On the other hand, business with capital can contribute to the real fight against social problems in the world and support positive system changes.
Thinking about the involvement of small and medium-sized enterprises in its activities, in 2012 UNICEF Polska developed the "Company with a heart" program, addressed to this group of recipients. The program allows smaller entities to combine business assumptions with elements of social responsibility. Similar programs operate in many other countries, gathering local companies around common activities. Only in recent months, Karod and Natural Pharmaceuticals have extended their participation in the program.
In turn, large companies that want to help children together with our organisation are invited to participate in the "UNICEF Friend" programme. It is a proposal of cooperation tailored to entrepreneurs. Companies from very different sectors participate in the programme: CREATON, Mikomax Smart Office, Damian Medical Centre, GOFIN Tax Publishing House, PAGEN and others. We encourage other companies to follow in the footsteps of our current partners. For more information on opportunities for business cooperation with UNICEF Poland, please visit unicef.pl/biznes.
It is also worth adding that we act for the benefit of children in Poland, conducting educational projects in schools, the "Children's Friendly City" initiative and taking care of the implementation of the provisions of the Convention on the Rights of the Child in our country. Business partners can join, for example, in our educational projects. An example can be a very successful educational and social project "IT (works) US!" carried out in cooperation with the Santander Bank Polska Foundation. The aim of the action was to motivate and engage students and teachers to undertake social activities and implement projects addressed to the school community and the local environment. Over 740 schools applied for the programme. Each participating school could apply for funds to finance a social project it had prepared. Those schools which prepared the most interesting projects received grants to help them implement their planned activities. Grants were provided by the project partner: Santander Bank Poland Foundation. The next edition of this program starts this year.
Non-governmental associations and business associations are very different from each other. The goals they set for themselves and the ideas they profess are very different. What are the benefits of these two organisations working together?
UNICEF is one of the initiators of strategic cooperation between business and humanitarian organisations. Our organisation cooperates with business partners all around the world – international corporations, but also with local companies. Partnerships with organisations such as UNICEF give companies the opportunity to save the lives of the youngest while achieving their business goals. The organisation's global reach, recognition and credibility help achieve business results, build brand position, unite and engage employees. Together, we bring real help where it is needed the most. Pursuing a common goal has a significant impact on children's daily lives. For a company, an NGO can also be a source of inspiration and expertise on social issues, as well as a partner in implementing its CSR strategy. I think that despite the differences between NGOs and the world of business, the common idea of providing support to those in need can be beneficial to both parties and help them achieve their goals.
The most frequent donors to charities are private individuals. Many people do not know that companies can also get involved. How can companies help NGOs?
It is true that the most frequent donors are private people. My special appreciation goes to the people who continuously support our activities with a donation every month. There are more than 5.5 million of them worldwide, from 50 countries. Among them are many donors from Poland. This invaluable help saves the health and lives of the most needy children in the world. However, we do not forget about entrepreneurs, whose involvement we want to continue. As I have already said, the business world has enormous power to initiate change and can permanently combat some of the children's problems. The easiest way to get involved with an NGO is to make a donation. However, we cannot overlook the educational aspect, the expert aspect and the involvement of the company's employees or clients. For every business willing to support our activities, we will find a suitable way to work together.
Corporate social responsibility is a strategy according to which enterprises take into account social interests in their activities. Is its idea the key to solving problems in the world?
Definitely! In most cases, UNICEF's cooperation with business partners lasts for several years. It enables companies to join global aid programmes implemented all around the world. Above all, it allows for achieving measurable and sustainable results, e.g. eliminating polio in most countries in the world, reducing neonatal tetanus or abolishing the practice of child labour. A good example here was the cooperation between UNICEF and Pampers. The joint action led to the complete elimination of neonatal tetanus in 26 countries! We estimate that this saved the lives of around one million newborns worldwide. It is also worth mentioning the action carried out by UNICEF Polska and our partner – ITAKA Travel Agency. As part of the "Ethical Travel" programme, our employees encouraged tourists to pay attention to the situation of children in the countries they were visiting. We have also jointly implemented the project "We think of you, we think of others" helping children in 10 districts of Sri Lanka where the level of child undernourishment was the highest. As you can see, entrepreneurs can make a real contribution to fighting with social problems around the world.
UNICEF was established in 1946. Today you work with governments in 190 countries and have millions of small and large beneficiaries. How has the organisation changed over all these years?
UNICEF was founded on the initiative of a Pole, Dr Ludwik Rajchman – unfortunately not everyone remembers this. Shortly after World War II, he contributed to the creation of an organisation that provided aid to children in war-torn Europe, including in Poland. Already in the 1950s, our mandate expanded to other countries and continents. Now we are present in over 190 countries and bring aid where it is most needed. Despite the increase in the scale of our operations, our principles have not changed. We provide aid apolitically, with the welfare of children as our first priority. The forms of aid and the products we provide have changed. We use innovative methods of reaching the injured using, for example, drones. We are simply adapting to a changing world.
This year, UNICEF celebrates its 75th birthday. Even though the organisation's round anniversary comes during an unprecedented global pandemic, we are not giving up. Then, as now, the scale of the challenges facing the world's children is overwhelming, and our mission is not overdone.
The last few years have not been easy. COVID-19 has left a very strong mark around the world. What activities are currently priorities for UNICEF?
2020 will forever be remembered as the year of the COVID-19 pandemic. Closed schools, mental health challenges, home isolation and limited access to basic services have affected millions of children and their families around the world. However, children's existing needs have not disappeared. As a result of the coronavirus pandemic, children in the world's poorest countries and those already disadvantaged by discrimination, social exclusion or armed conflict have been hardest hit. UNICEF estimates that the number of children living in poor households has increased by 142 million in the last year. In addition, as many as 94% of pupils at the height of the pandemic could not go to school and at least one third had no access to distance learning. At the same time, limited access to food could soon leave 44 million children undernourished. UNICEF's many years of experience in providing assistance have allowed the organization to react quickly and adapt to new challenges. Support in the fight against the pandemic went to 138 countries. Now more than ever, children and young people around the world need global action, investment in health, education, and more resilient systems and services that all can benefit from. Just as the previous generation built the world anew after World War II, we must do it today for our children.
---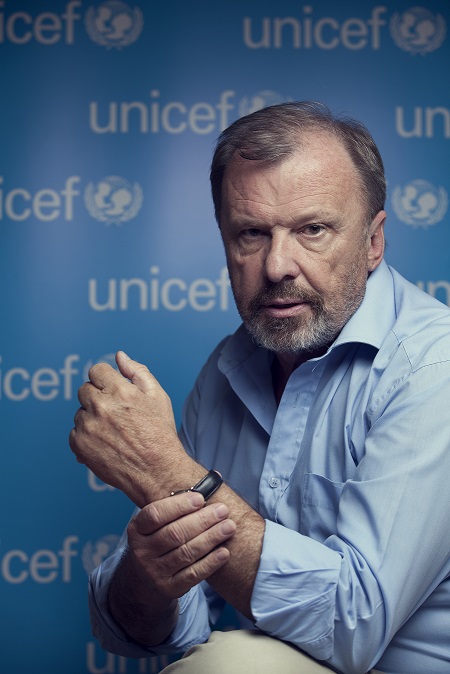 Marek Krupiński
A graduate of Adam Mickiewicz University in Poznań, in French Philology. His professional career began in the mid-seventies in tourism sector, followed by LOT Polish Airlines in the sales department as well as abroad as the head of LOT's representative office in Tunisia and North Africa; in 1992 he was appointed the head of the Management Board's Office, and next the 1st term PLL LOT.SA.'s Management Board member. After system changes in Poland, he was seconded to the Ministry of Defence as the first civilian director of the International Cooperation Department responsible for implementing civilian governance structures. In the years 1996-2002 Director of the Polish commercial office in the French aviation industry group Aerospatiale. In 2003-2006 he worked as the President/Managing Director in one of the most prominent advertising agencies in the Polish market, carrying out a successful programme of debt reduction and restructuring. In the years 2006 to 2007 he returned to LOT Polish Airlines as its Commercial Vice President/Management Board member. In mid-2007, he was appointed by the Council of the Polish National Committee for UNICEF as its Executive Director.