Agata Staniewska – Bolesta
Managing Director Offshore, Ørsted Polska
Currently people that manage companies, more frequently turn their focus on their organization having a broader social context and undertaking initiatives relating to social responsibility of their business. What actions in this respect is your company taking, how are they realized and what does responsible leadership mean to you?
Ørsted's vision is creating a world powered solely by renewable sources of energy. We want to achieve this in a sustainable manner, friendly towards the natural environment, with respect to human rights and promoting diversity. At the same time we are well aware that this is not an easy task, since social challenges are currently very complex and quite frequently demand a deep understanding of both macroeconomics and local conditions.
Poland is one of the key players on the market for Ørsted. Through our knowledge and experience we want to support Polish energy transformation. Because of this we have joined in partnership with ZEPAK – a company that is the leader in energy transformation in Poland. The cooperation presupposes a mutual acquisition of permits in order to build offshore wind farms in the Polish part of the Baltic Sea, next the realization of these investments by way of affordable and clean wind energy in order to reach Polish homes and companies. An important part of this partnership is the Fund For a Fair Transformation of Eastern Greater Poland with a budget of about 50 million zloty (10 million euro), guaranteeing safety of regional communities, especially places at greatest economic risk and consequences for getting away from brown coal. Mutual investments will be accompanied by numerous socio-economic initiatives and growth of the innovative branch of the green industry. The Konin region and local communities will take advantage of wind farms being built, thanks to tax revenues.
In addition, as part of the Offshore Wind Farm Baltica project realized in conjunction with PGE Baltica towards the Fund for Sustainable Growth for Choczew, a town in the Pomeranian region, in which a generator station is being erected, being the connection point for generated power by Baltica to the transmission grid. The goal of the Fund is supporting actions conducted locally with the initiative of the residents from Choczewo municipality or the local or local non-governmental organizations. This initiative is aligned with actions being undertaken mutually with offshore wind farm investors as part of the Municipality Powered by Wind program. At the same time the initiated Fund is a practical example of implementing the best practices on the Polish market, that were developed by Ørsted in other countries.
Both of these projects are a great example of leadership that is not afraid of challenges or making complex and very often challenging topics. For me, responsible leadership is directing the courses of action, which in my opinion are appropriate and consistent with the company values and taking responsibility for the team and creating work conditions that motivate workers into action. Contrary to what it appears, it is not an easy task, because we frequently operate while surrounded by changing and uncertain tasks.
More and more investors, financial institutions choose organizations that function with ESG protocols as their business partners. Do you think this is right? In what manner does the company you manage go outside of the business as usual model? What does it do for the climate, local communities, diversity and what would you like to implement in the near future?
Correct, a lot of studies show that taking into consideration criteria of ESG within the company can have a positive influence on financial results, increase the competitive edge, lower operational financial risk and assist in obtaining financing. For Ørsted ESG is something more than just a trendy slogan. It is a very interchangeable model for managing a business with care for the community, environment and corporate order.
In the last 15 years Ørsted has transformed itself from an energy company based on fossil fuels into a global leader in the field of renewable energy. We are well on our way to completely reducing our CO2 emissions in the range of energy production and our operational functions by the year 2025. In 2021 we became the first power company in the world whose goal was to reach net zero emissions in our entire chain of values by the year 2040 according to the SBTi (Science Based Target Initiative) organization.
In the coming decades the growth of renewable sources of energy has to drastically pick up pace to speed up the transformation of energy systems towards zero emissions. Growth of green energy should go hand in hand with protecting natural habitats and natural wildlife, that includes the one present in our oceans.
I predict that climate change will be our biggest factor in losing biological diversity in the upcoming decade. Even now, diversity in lifeforms in our oceans on land is extremely endangered. In the last fifty years 70% of species have gone extinct and another 25% is in danger of going extinct – this number will double by the end of the century if we don't take action. Biological diversity is our system for maintaining life, and similarly to our climate, it is going through a crisis. That is why immediate changes are crucial.
In response to these challenges Ørsted has declared that all our new projects, set off at the latest by 2030 will have a positive net influence on biodiversity. At this moment we have under our belt realized initiatives that limit negative influence on the environment – for example synthetic coral reefs that support regenerating the population of Atlantic codfish in Holland or monitoring the natural habitats of crustaceans in Great Britain. Going even further, a few weeks ago we established a partnership with WWF. It is supposed to speed up the implementation of solutions that will increase biodiversity while growing offshore wind farm projects.
We are not afraid to undertake challenging tasks related to our operations functions. We have decided to announce an immediate ban on stacking wind turbine blades, which are the main elements of the wind turbine and for which there is a lack of wide reaching solutions in the area of recycling. As part of our strive for more circular use of resources, we have committed ourselves to reusing, recycling or recovery of all blades withdrawn from use, Although we do not have answers to all the questions, such as how to deliver energy projects with a circular nature, which have positive impact on biodiversity. We constantly search for solutions that generate innovation and we invite our partners to take part in this as well, to mutually create solutions that support this transformation.
Each company creates their own corporate policy, which contains values seen by clients from the outside. Are clients more willing to select a specific company, since it does something good, something which the client identifies with, or does the decision depend mainly on the price? What is your opinion, what trends have you noticed, are you changing anything in that respect?
The council of enterprises is going through drastic changes. Today's society – from clients, to investors to local communities and non-governmental organizations – expect companies to get involved in change, not just thrive for achieving profits. Our experience at Ørsted shows that implementing responsible business and solving ecological and social problems go hand in hand. We have proved this in the last decade when in the process of transformation from an energy company based on fossil fuels to becoming the leader in the area of green energy and we have created a brand new business model. Many studies, global and ones realized on the Polish market clearly show that consumers say: I'm researching. Almost 54% of Poles declared that when making decisions on purchases, they select a product or a specific service because of social and responsible company operations. These conclusions arise from a study conducted in September of this year by UCE RESEARCH for Wyborcza.biz. A similar trend can be observed in the area of recruitment and employer branding. More and more candidates point towards our business profile as one of the main motivations to joining Ørsted. Regardless of age and experience, the possibility of being a part of something monumental, adding their own piece to creating a world based solely on renewable energy sources is an important aspect for people searching for a place of employment.
Growth of values and ethical codes in many organizations may be an attest to a rising awareness in this respect. Many managers declare that it focuses on ethics as the central point of its operations. Is complying with rules of fair play in managing a guarantee of stable growth in a company?
I believe that a company's policy should be built around values and not common interests. This type of approach completely changes the perspective of managing a business, since it allows people to join together around common values and build a company in a much longer perspective. Fundamental question that every company should ask itself is – are we on the sustainable path? Is this the path for the next 5 or 10 years, and is this business model in unison with our values.
When we reached the conclusion that we are one of the most fossil fuel reliant companies in Europe and we are responsible for nearly a quarter of geothermal gasses emitted in Denmark, we understood that this is not our future and we have to take the sustainable growth road. We focused on a then brand new technology, that being offshore wind energy and we were brave enough to undertake large investments from the beginning of our transformation. Lessons learned from this process are as follows: make sure the road you took leads to a sustainable future. If it does not, don't be afraid to take determined steps and plan your actions responsibly. This approach has worked great and allowed us to completely alter our business model. Today we are one of the most sustainable companies in the world in the Corporate Knights index and one of the most influential companies in the world according to TIME100 ranking.
The world needs smart and quality leaders that want to positively affect their environment. Was there ever a time where you started looking for a deeper sense of your work, ability to do something good for your community or country? What were you able to realize?
I constantly search for a deeper meaning in what I do. I think every single one of us should, because we spend a large portion of our life at work and it is worth having satisfaction as a source of motivation.
Currently working on our joint Offshore Wind Farm Baltica project along with PGE, I have a feeling that I am making positive changes for Poland. Each day with small steps, together with our entire team we are contributing to changes in the energy sector into a more sustainable one for Poles. As early as 2026 the first phase of our project will start functioning at 1 GW of power, and in 2027 another one at 1,5 GW. All in all 2,5 GW of installed power, from which clean energy will be produced. In comparison that is almost half the power installed at the Belchatow power plant – the biggest coal power plant in Europe. Realization of such major projects that change reality gives major satisfaction.
We also hope to build more wind farms in the Polish part of the Baltic ocean. In this aim along with our other partner, ZEPAK we are trying to get permission to realize new projects. Ørsted is able to efficiently, cost effectively and in a sustainable manner realize offshore wind farms. ZEPAK has experience on the local level and ambitions to successfully conduct their own energy transformation. I believe this duet will gain the benefit of the doubt from the government and a license to realize their joint project.
---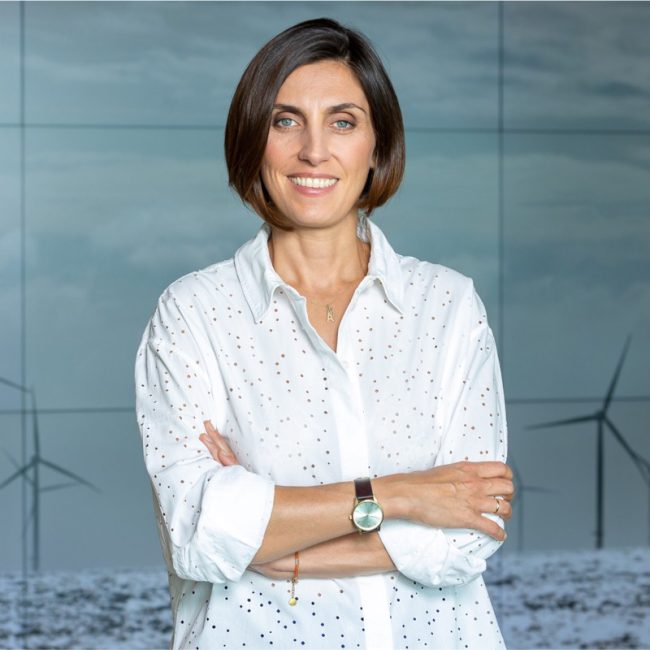 Agata Staniewska
A manager with many years of experience and an expert in the field of energy, environment and climate. Specializes in analyzing the political and legislative spectrums on the national and European levels. Has been involved with Ørsted for the last four years. Was the first person hired in the field of offshore in the Polish company of the dutch group.
Has taken part in talks with PGE Baltica in the range of partnership in two building phases of MFW Baltica, which concluded with the signing of a contract on May 6th, 2021 and creating a company joint venture with 50% share from each side. Has also taken part in talks with ZEPAK that was finalized with the signing of a partnership agreement on March 8th, 2021. Before joining Ørsted she had held supervisory positions at CEC Group and Lewiatan Confederation. Is a graduate student from the Interdepartamental College of Environmental Protection at the University of Warsaw. She has also completed a course in the field of climate change at the University of Melbourne.
Last Updated on January 10, 2023 by Valeriia Honcharuk